Retaining Walls Adelaide Residents Install When Landscaping Sloping Blocks
If you have a front garden or backyard with a severe slope, chances are much of the space isn't being used or utilised as well as it could be. Creating a split, with two or more level areas can make the land more useable and practical. Depending on how high the wall is, steps are often incorporated to allow quick and easy access to all parts of your garden.
Retaining walls and landscaping go hand in hand when tackling a sloping block. With over 35 years experience, Hand Made Gardens can advise what type of retaining wall would work best, taking your unique situation in to account.
When changing the landscape of your garden there will always be consequences to consider. Often neglected to be mentioned by many landscapers is what the impact will be when it rains. Often stormwater pipes and grates need to be laid to cater for increased water build up in certain areas. Depending on the height and construction material used, an agriculture drain may be required by engineers to keep as much water as possible away from the wall too.
The choice of retaining walls Adelaide home owners can select from is large. The style and look you currently have, or want to achieve with your new garden will help you decide what material your retaining wall will be made with.
Concrete blocks are one of the most popular choices, used when a more formal look is required. With many colours to choose from, they also come with matching copping and pavers.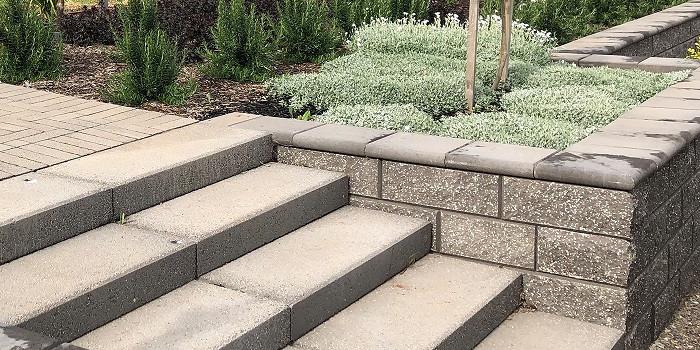 Stone or rock walls are selected by many residents across Adelaide's southern suburbs looking for a less formal modern look to complement their country or cottage style garden.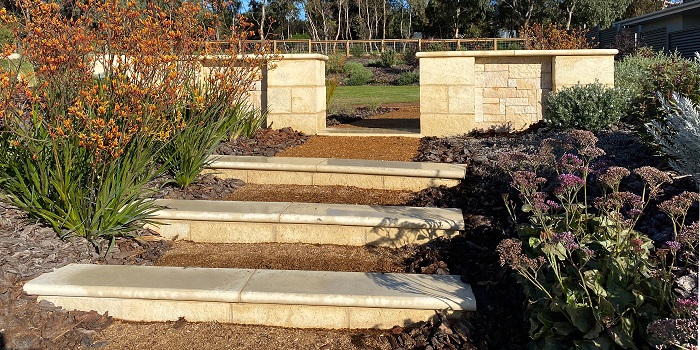 Raised garden beds also retain earth. Light weight Hebel blocks can be rendered, then painted to match the surrounding areas colour scheme.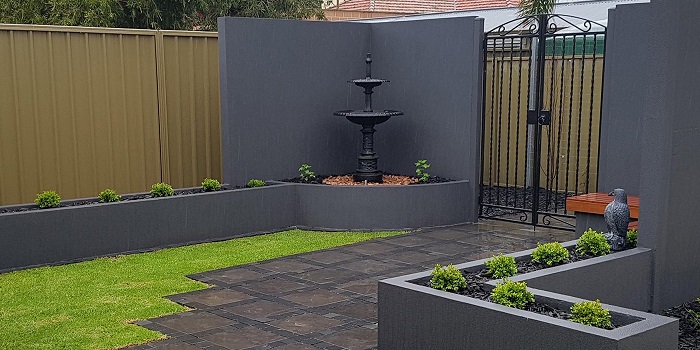 People Also Ask
Most people have retaining walls constructed to reclaim and make better practical use of their garden. Depending on water flow from the rain, you may also want to have a retaining wall erected to stop soil erosion and flooding of lower lying areas of your garden.
For gentle sloping blocks, the cheapest retaining walls are made using wooden railway sleepers or concrete blocks. While bricks are cheaper than a concrete block, the labour component is significantly higher. The same can be said for rock retaining walls, the time it takes to cut, place and mortar rocks correctly takes more time than placing wood sleepers or pre-cast concrete blocks.
Rock and block walls will last much longer (5-10 times) however than a retaining wall made using wood and there is far less maintenance to keep them looking good, so in the long run, your initial saving can quickly be eroded away if you choose to retain using wood.
For larger or steeper sloping blocks, multiple splits may need to be made. Wood does not have the strength to hold back the same pressure as rock or concrete blocks which is why you'll often see bowing after only a few years with wooden railway sleeper retaining walls.
Moss rocks can be used to retain large amounts of soil but because of their weight, cranes are often needed to place them, especially in backyard gardens and it's a slow tedious process.
Retaining wall contractors from Hand Made Gardens are called out too often to inspect and repair retaining walls that have failed. The 3 main causes were found to be:
The inadequate design was not proposed by licensed building professionals or structural engineers, so the wall was never going to withstand the pressure of the soil it was supposed to hold back.
Poor construction, typically performed by un-licensed people who took shortcuts – but they were the cheapest quote!
Build up of water behind the wall with no drainage system and poor compaction. Again this is the result of using amateur people who do not have the training and knowledge.
Using licensed retaining wall contractors does cost more than using a guy with a shovel and ute quoting on the job because it does cost more to do the project properly. It takes longer and therefore costs more because of the greater number of steps involved and requires more materials such as a drainage system and compaction material.
When people ask that question they just about always mean 'What are the different materials used to build a retaining wall'.
Concrete blocks are often used in formal, more contemporary gardens. If you're after a more rustic or cottage garden look, rock walls are very popular, with the choice of rock used matching the home. Lightweight Hebel or foam walls are extensively used these days to make up designer raised garden beds often placed in courtyards and small back garden settings.
Hand Made Gardens are licensed retaining wall contractors, so can professionally advise you what options you have with regards to the type of retaining wall, but at the end of the day, personal preferences and budget play a big part in the decision.
Retaining walls 1m high or greater need to be designed or approved by a structural engineer and installed by a licensed retaining wall contractor across Adelaide SA. Apart from the height, there are a number of location restrictions limiting the installation and requirement of structural engineers.
Rest assured, Hand Made Gardens will always ensure your retaining wall is compliant to all local and state laws and regulations, so you wont have to worry about a thing.
Even small retaining walls may have to hold back an enormous weight. A 1 Meter high by 4 Meter long wall could be holding back as much as 15-20 metric tonnes of saturated earth.
Yes! Every retaining wall should include at least drainage stone behind the wall. For walls that don't have natural joints for water to drain through like concrete block walls, a drainage system including an 'ag drain' may also have to be installed to prevent increased pressure on the wall when it rains.
Yes! Most people do. Often the wall is erected to create more usable space, so installing lawn or paving for example on the newly created flat area is completed at the same time.
Installing an irrigation system and garden lighting is also worth considering at the same time too. Digging trenches under the wall to handle pipes and cable is far easier and much less expensive before the retaining wall is built.
Landscaping and retaining walls often go hand in hand with sloping blocks. Fencing is also a consideration when retaining, especially on the boundary and when landscaping around pools.
Would You Like A Split Level Garden?
If you know what your budget is & have something in mind, Ask us to quote on it.